Driving through the streets of Tucson, it's impossible to miss the people experiencing homelessness here in Tucson. Whether panhandling on a traffic island at a dangerous intersection, sleeping on a piece of cardboard behind a bus stop, pushing an old shopping cart across a parking lot, or any number of miserable-looking activities, our homeless brothers and sisters are down on their luck.
In 2019, there were 1,372 people who identified as homeless. However, the number has likely grown (and was probably higher in 2019 too, because that particular demographic is hard to pin down) due to the COVID-19 pandemic and the accompanying unemployment.
Housing First, not punishment
How a society treats its most vulnerable is always the measure of its humanity. Here in the greater Tucson area, we're trying. The city, the county, and several nonprofits are doing their best to stay human. Civic entities are moving away from the punitive, counterproductive model of incarceration.
Instead, they are moving to the "Housing First" concept, where those living with mental illness or addiction are not turned away until they sober and straighten up. Instead, by filling this basic human need first, homeless advocates are discovering that recovery — whether financial, psychological, or physical — works better, faster, and cheaper.
It's unlikely that a few nights in jail will motivate anyone to turn their life around. But having a place to call home allows a measure of dignity. This stability enables formerly homeless people to find work, collect veterans' or social security benefits, access health care, charge their phones, look for work, care for their family and pets, and hopefully experience increased self-worth.
What is the best way forward?
While the "Housing First" approach is ideal, it comes with a significant investment from all of us, and resources are stretched thin. It's unlikely that we will miraculously get everyone in a home soon. As the Coronavirus stimulus programs petered out, mass evictions are surely on the horizon. The demographics of the homeless population will change, with more families and women unable to afford rent.
Our Tucson neighbors and local community members have various thoughts on the best way forward. Tent cities? Converting old motels into low-income micro-housing? Providing lockers? Hopefully, some new ideas will bubble up. When we talk about our social challenges, we are stronger than when we pretend not to see them.
Compassion is a must but let's not whitewash the facts. Homeless camps are unsightly, and these sites are littered with the detritus of life. We take for granted our trash service, our running water, our heat, and light.
Anyone who has ever been camping and been forced to reckon with the logistics of cooking, sleeping, using the bathroom and showering find mundane daily tasks more complicated than being at home. Camping on a vacant lot or in a wash must be much worse. It's trespassing. It's exposed to all who pass by. It's trying to make do with scavenged bedding, food that doesn't need to be cooked and washing with a jug of water.
And, for those who are high or mentally challenged at the same time, the reality might feel insurmountable. If you're female or physically frail, it's likely terrifying to feel that vulnerable and exposed.
What you can do
Local homeless advocate Angela Murphy has strong opinions about the homeless crisis. "I wish people would stop talking about it and start doing something about it. Carry blankets and warm clothes in your trunk to give to a homeless person when you see one. Stock up on food that only needs water added, such as instant oatmeal or ramen noodles, as well as peanut butter and crackers. Share it."
Murphy's empathy and call to action come from personal experience. She was homeless herself several years ago, when an abusive relationship was the catalyst. A few bad choices and substance use worsened the situation. She landed in Old Pueblo Community Services, worked toward achieving sobriety, and now she is an employee there.
[For more information contact the organization at 520.445.7080 or info@HelpTucson.com.]
Murphy had some insights about why so many homeless people don't go to the shelters that may surprise the public. It's common knowledge that shelters can be scary places, and some people in need would rather take their chances on the street. Other reasons include shelters not allowing pets, insisting on sermonizing before offering a bed, separating cohesive "family" groups, and not providing a place where their clients can put their belongings. Old Pueblo is the exception to these conditions, but beds are limited.
Sarah Launius, Chief of Staff for Tucson's Ward 3 Council Member Paul Durham says, "it's important that we not require people to contort to meet unrealistic standards in order to access services." Launius is hopeful that the City of Tucson's newly created "Housing First Director" position will be filled by an individual able to achieve the complex coordination between civic entities and service organizations. "We need to figure out the roles different sectors fill."
According to Launius, the best way citizens can help is to become familiar with the organizations that serve this population and ask about volunteer or donation opportunities. She enumerated a number of these, including the:
A call for comment on the Nextdoor app for Tucson resulted in more than 50 responses almost immediately. People feel compassion but expressed frustration. Comments ranged the gamut.
"It costs half as much to house the homeless as it does to punish them. The advantage of the tents is that the independent types that refuse to go to the shelters don't mind tents because it feels like they still have autonomy."

"The closed-up schools really should be repurposed for any number of shelters for whomever, (people, pets) needs shelter. The N.I.M.B.Y.'ers fight against this every time it's brought up as a possible solution to homeless camps/populations. What they don't "see" is that the homeless population is already "in their" neighborhood. The N.I.M.B.Y.'ers would prefer that abandoned buildings sit empty to rot, fall down, and attract vandals, than to have these places occupied to prevent just that."

"I see a lot in the parks during the day and in the washes at night and they are like a family to each other, at least here in Tucson. It's hard to get sober when you're homeless."

"I've found traveling (to Portland and San Francisco), where they are given basic needs, it has left the cities full of garbage and excrement. The majority are modern-day gypsies, that is what they call themselves. Basically off-the-grid people and yes, with some kind of mental illness."

"There was a homeless encampment right outside the wall behind my house. I felt sorry for them, but I didn't want it there. I felt kind of hypocritical. What do we do?"
As of the end of December, there were 118 beds immediately available in Tucson for those who need one. There may be strings attached, but no one needs to freeze to death. People have the power to help. Murphy cited this quote: "Every saint has a past, and every sinner has a future."
At the center of the problem is our humanity and how we respond. It's looking like a long road home.
Richard has been living on Tucson's streets for seven years. Pulling a thoughtfully equipped cargo wagon and warmly dressed, he considers himself lucky. He says skills he learned as a boy scout help him navigate the challenges of survival, adding that Southern Arizona is the best place to be homeless, thanks to the dry winters. Richard treats his own aches and pains with ibuprofen, but cautioned that other homeless people he knows are playing a dangerous game.
"There's drug called 'G' on the streets right now, I see it everywhere, it's a sort of bad methamphetamine that all the mentally ill people are taking to self-medicate. It makes them crazy and causes them to holler constantly. They'll steal from anyone, including each other, to get more."
Richard survives on an inherited quarterly annuity of $2,300. That's $9,200/year, not enough to pay for housing, but sufficient for survival. He says the Tucson Police Department officers know him and treats him with respect. Richard has no plans to change his lifestyle, even though he feels that the COVID-19 pandemic has increased pressure on people like him.
"We're heading for a humanitarian disaster," he says. "It's not a matter of IF, it's a matter of WHEN."
---
Jen, a homeless woman with two chihuahuas says, "Like I'm an amazing, physically awesome hard worker. But I still got my babies and no roof to be able to get that jump start on fixing things in my life cuz I live second by minute by day-to-day and can't get that break."
---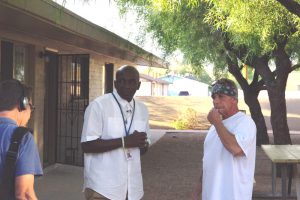 "I was born and raised in Baltimore, the youngest of three boys, by loving parents who raised me with good values," says Brian Degrafenreid. But as a teenager, he got caught up in the street life using and selling drugs. For the next 25-30 years, Brian would be in and out of jail on lesser charges.  He tried treatment, acupuncture, and drug court but could not kick his habit with methamphetamine.
While incarcerated, Brian had contracted valley fever which moved to his spine, rendering him unable to work.  No one would take him.
When Brian arrived at Old Pueblo Community Services, he was surprised by the excellent support and quality of the housing. "It was like a home – there was even a pool. Everything he needed to get started including food, clothing, and support. He was nervous but was encouraged by his peers and the staff.
"At the end of the day, I had been locked up in the system physically and mentally, now I am Free. I work every day to be an example for others and still lean on support. I don't live in shame – I don't live in the things I did in the past, I live in the things I am doing today."
Today, Brian is a Navigator for OPCS Supportive Housing Program, and on track to become a Recovery Coach.