Today, a bazaar of firearms is taking place at the Pima County Fairgrounds. The Crossroads of the West gun show is infested with unlicensed dealers who sell cheap handguns for cash and refuse to make background checks.
But one elected Democrat took action to bring gun safety to the weapons emporium: Pima County Supervisor Adelita Grijalva. For the first time, there will be a table with pamphlets, information about gun safety classes, and free gun locks to keep guns out of the hands of children.
Pima County Attorney Laura Conover furnished the pamphlets, information and gun locks.
"The young people that have access to guns is a real concern," she said at the February 28, 2022, meeting of Democrats of Greater Tucson.
"It's a huge concern. It's something that is happening on our campuses, even on our high school campuses. Because young people have access to guns at their homes, and then they come onto the campus in vehicles and backpacks. We've had a couple of situations that were really concerning," she said.
As a result, six Pima County deputies will patrol the entrance to the gun show along with two ATF agents in tactical gear. They will also watch the parking lot to stop gun sales out of people's car trunks.
Showdown with the gun runners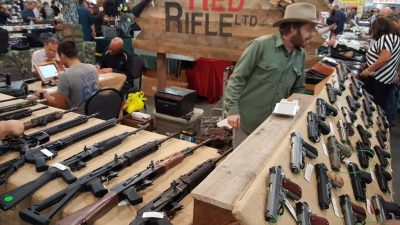 In February, Grijalva met with two obstacles to gun safety: the Chair of the secretive Southwestern Fair Commission, which is overrun with NRA zealots, and the notorious Crossroads Gun Show leaders, which is owned by convicted gun felons who invite the shady unlicensed sellers.
The Commission has the contract with the county to operate the public fairgrounds.
In an abrupt turnaround, the two gun groups agreed to implement increased safety measures that could reduce the number of guns getting into the hands of children. Notably, this happened after the Supervisors took steps to flush the NRA creeps from the Commission.
"We'd like to be able to not have any of those gun sales on our property," Grijalva said. "There wasn't any established safety protocol. And now there is."
Working with Mayor Regina Romero, Grijalva hosted a gun safety town hall with youth from Sunnyside Unified and Tucson Unified school districts. We worked with the mayor to get that going. "The concern that the school administration had with the young people that had access to guns was real," she said.
"The problem is you have some people who are just so disconnected from the reality of what our communities are going through with this easy access to guns."
GOP legislature blocked local gun regulations
"But we don't seem to be going anywhere on having universal background checks at the Fairgrounds. We're not there at all. I even asked the Crossroads of the West, 'why do you have unlicensed sellers? Can you limit vendors to licensed sellers because they all have to do background checks?'"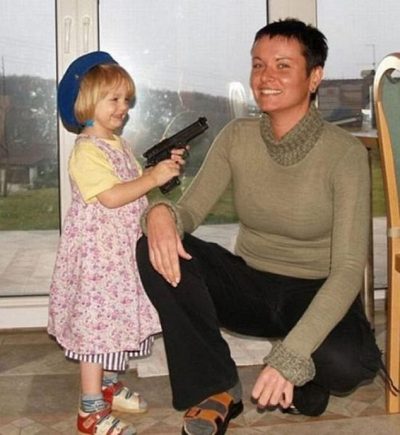 The answer was no, thanks to the pro-gun Republican state legislature. It passed a state law, A.R.S. § 13-3108, that specifically bans local governments from regulating gun sales. "Any ordinance, regulation, tax or rule that is enacted by a political subdivision in violation of this section is invalid and subject to a permanent injunction against the political subdivision from enforcing the ordinance, regulation, tax or rule. It is not a defense that the political subdivision was acting in good faith or on the advice of counsel," the law states.
But the County Attorney said in a March 1, 2022 legal memo that the Supervisors have no viable way around the state law. It was their third memo on the topic.
"Until there are changes at the state level, in regard to the law, we're pinned in a corner," Grijalva said. "I was hoping that we would have some sort of authority over Pima County facilities. We really don't have the authority to do anything."
Meanwhile, Republican state legislators are pushing HB2414, which would allow anyone to bring a loaded gun on school campuses. It will be up for a vote on Monday, March 7. Gun safety advocate Meg Pradelt today issued a Gun safety call to action for voters to stop the enactment of HB2414 and SB1650, which expands the state's "shoot first" law to defend property.
Grijalva is contacting legislators to stop the dangerous gun bills. Ultimately, voters need to reject Republican legislators in the 2022 elections or things will get worse. "We have to reach out and really work really hard to keep the people that are strong gun safety advocates in office and help those that are going to be at least moderate even like open to listening," she said.