Arizona Attorney General Mark Brnovich wants to get his party's nomination for the United States Senate so much that he is willing to risk lives during a pandemic to do it.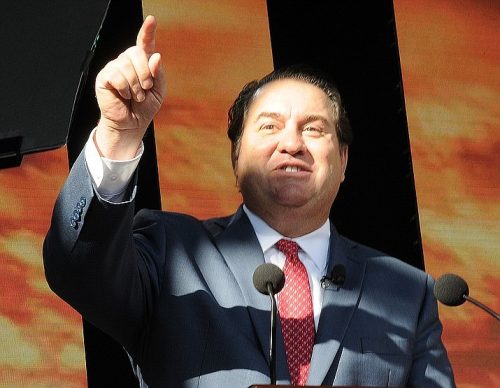 In a September 7, 2021 press release, Brnovich asserted that Tucson's vaccine mandate for city employees is not legal because it violates Governor Ducey's Executive Order and state law.
In the press release, the Arizona Attorney General stated:
"Tucson's vaccine mandate is illegal, and the city could be held liable for attempting to force employees to take it against their beliefs. COVID-19 vaccinations should be a choice, not a government mandate."
Brnovich is obviously not paying attention to the recent Coronavirus statistics in Arizona. All the medical indicators (case counts, hospitalizations, and deaths) are currently rising. People should not be given a choice to risk other people's lives.
Furthermore, the Attorney General's Office has threatened to cut Tucson off from funding the state shares with them.
"Today, the AGO (Attorney General's Office) officially notified the City of Tucson that its COVID-19 vaccine ordinance is in violation of state law and must be rescinded or amended. As expressly provided in S.B. 1487, if the City of Tucson does not rescind its policy within the next 30 days, the AGO will notify the Arizona Treasurer, who will withhold the city's portion of state shared revenue until it comes into compliance."
Tucson Mayor Regina Romero quickly responded to Brnovich's press release, posting on social media:
This report reads more as a campaign speech filled with political commentary rather than a fact-based legal opinion. We are currently reviewing our options, and Mayor and Council will need to provide direction as to how we proceed from here. (2/2)

— Regina Romero (@TucsonRomero) September 7, 2021
Mayor Romero and the other members of the Tucson City Council will meet on September 14, 2021, to discuss their options on how to respond to the Attorney General's Office.
It is a shame that Brnovich, in his quest for votes in his party's primary, is willing to enable the fringe views of the Republican base and put people's health and lives in jeopardy.
He is not exactly demonstrating the stuff that makes a good public servant.
Hopefully, Mayor Romero and the Tucson City Council will find legal options and strategies to continue this mandate that, unlike the actions of Brnovich and Ducey, are designed to protect and save lives, promote public safety, and enable Tucsonians to live normally.