A massive crowd of some 300 people swarmed a hotel in Tucson on December 4, 2021, at one of the last public hearings of the Independent Redistricting Commission. One speaker after another railed against the manufactured "safe" Republican district carved out of Democratic Pima County.
The roasting hot room had only 165 seats, and people waited for hours for their chance to testify. A busload of Republican MAGA activists pulled up to the hotel, but the riders were not admitted. Because of the huge crowd, attendees were limited to 90 seconds of speaking.
Democrats in the room stood up as Alison Jones,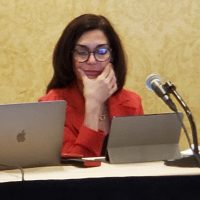 former Chair of the Pima County Democratic Party, led off the condemnation. "Cronyism, backroom deals, and the stench of the unconstitutional partisan gerrymander of [proposed] LD17 have contaminated the whole map and will be the shameful legacy of this Commission if it is passed," she said.
"Troubling information has come to light that District 17—a sprawling, non-compact district that wraps around Tucson, was actually drawn by Sen Vince Leach and the GOP. It was passed through the Southern Arizona Leadership Council to this Commission in an attempt to impart a veneer of legitimacy.
If every map submitted to this Commission were treated equally, perhaps this would be less troubling, but District 17 map was put on a fast track to approval. Independent redistricting exists to prevent legislators from drawing their own districts. Senator Leach and his accomplices have made a mockery of this process. Now that the Commission knows this, you can fix it."
Susan Bickel, Chair of the LD9 Democrats testified, "A recent revelation that a sitting Senator from LD11 influenced the adoption of this map to protect his seat in a Republican district smacks of political intrigue and influence. While his actions are deplorable, even more disturbing is that he, his staff, and the Pima County Republican Party pulled others into this little scheme. It is truly disappointing that two previously respected members of our community, the CEO of the Southern Arizona Leadership Council and the Mayor of Marana, fell victim to these political shenanigans.
But the most concerning part of this attempted cover-up is that it appears that three members of this Independent Commission may have violated the guidelines of Prop 106 by condoning these maps, which now appear to have been drawn under false pretenses. I don't think it is beyond reason to think that the public could now perceive that the Independent Chair and the two Republican members of this Commission have been complicit in this blatant attempt to deceive Arizona citizens.
Indeed, Chair Neuberg has repeatedly asserted that her "right of center" friends deserve to have maps that are drawn to their advantage. I strongly urge the Commission to reject the current legislative draft map. These maps should be discarded immediately to prevent any further stain on the legitimacy of this Commission."
Bonnie Heidler, Chair of the Pima County Democratic Party, said, "District 17 is a packed district and not "compact and contiguous to the extent practicable", which is one of the stated goals in the AZ Constitution. It is made up of selected Republican-leaning suburbs from opposite ends of the Tucson area that are separated by a mountain range and a long drive."
Residents of Tanque Verde and Vail have little to do with the distant suburbs of Marana and Oro Valley and have much closer ties to eastern and midtown Tucson. District 17 was designed by Republicans to create a safe Republican district. This violates the constitutional requirement."
Diane Nevill chair of the LD10 Democrats said, "I want to address the new CD6. The current map approved by the Commission looks like an elephant, with its trunk reaching out to Casa Grande.
Casa Grande does not belong in CD6. It is much more closely aligned with Phoenix than Tucson. People from Casa Grande work in Phoenix, shop in Phoenix, do business in Phoenix. They don't come to Tucson. If you remove the elephant's nose, CD6 can contain more of Tucson and Pima County, going south to the Santa Cruz County line.
I support CD Map 0072, or the Trunkless Elephant as it's been called. Please reconfigure the final map in that likeness."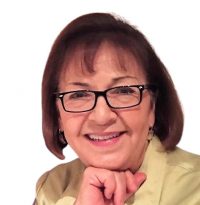 Maria Hidalgo, a retired Human Resources Expert, is a Democratic Precinct Committee Person in Precinct 112 near Sabino Canyon. "When I first came to Arizona, I learned the voters 20 years ago created the IRC to take the politics and partisanship out of redistricting. I thought, WOW! Arizona has what is known as the "gold standard""Then I saw the Tanque Verde neighborhood of Tucson included in a draft map for LD17, lumped in with Vale, Saddlebrooke, and Marana, and with Tanque Verde not only being more than an hour away from Saddlebrooke but also with an entire mountain range separating them. Did I think that this LD is compact or contiguous?
"I soon learned political influences had been unleashed to create a Republican LD in Pima County. So the IRC was created to take political influence OUT of this process. I am exhausted by extremists' abhorrent rhetoric and behavior, who are now in office at the Arizona state and federal level. Extremists from districts that are not competitive.
"Competitiveness is simply good governance, and it tamps down on extremism. Please approve the more competitive Draft LD17 map 9.0."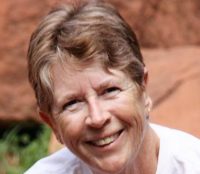 Gail Kamaras is a member of Democrats of Greater Tucson and Corresponding Secretary for LD10. She testified, "I live near East Speedway and North Pantano Road In Tucson. According to draft legislative map 10, I will be in proposed district 18. Unfortunately, that district does not conform to the standards required by law. It is not compact or contiguous. There is certainly no common community of interest.
This proposed district would stretch from southeast Tucson near the boneyard to the fringe of Oro Valley in the far northwest. To drive from one end of this district to another would require getting on the interstate. A person living in a metropolitan area should not need a 30-mile drive on an interstate highway to travel from one end of her district to the other.
The current maps neither comply with the Voting Rights Act nor recognize that each major political party represents only about one-third of the state population. Fair and competitive districts should be the default. Unfortunately, draft legislative map 10 doesn't respect the compact and contiguous requirements, skipping over nearby populations and physical barriers to include those populations further away.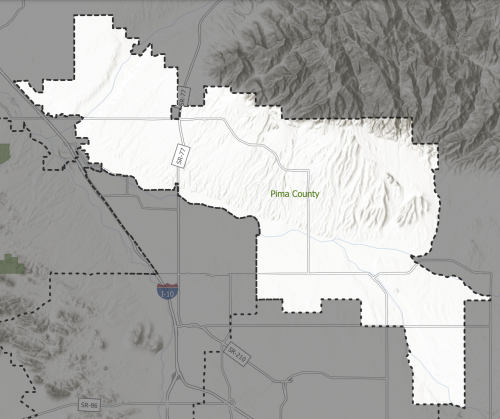 Finally, It now appears my proposed district and others nearby are the indirect results of prohibited influence by state legislator Vincent Leach to gerrymander a partisan district to benefit him deliberately. That is the draft map for LD 17 submitted by Commissioner Mehl. This casts an appearance of impropriety and corruption on the Commission. The legitimacy of our Redistricting process is at risk. This Commission must do better for all Arizonans.
Larry Bodine. I am the President of Democrats of Greater Tucson and Precinct Committeeman in LD9. I said, "I live in proposed LD17. My community of interest is American democracy. The amount of corruption in the redistricting process is shameful. Republican Sen. Vince Leach personally and secretly gerrymandered the new LD17 to move the lines so his resident would be in a safe Republican LD17. A political party is not a 'community of interest.'
Since the IRC is giving out personal favors, I have a personal request from me. Please delete LD17. Why should Republicans have a 'safe' district? They already dominate the state legislature, the governor's office, and the attorney general's office. LD17 is designed to extend one-party rule.
My ancestors fought in the Revolutionary War, the Civil War, and World War II. Please adopt their spirit and create compact, sensible, fair, and competitive maps."
The room broke out in applause.