State Senator Kirsten Engel claimed the title of the front-runner in the race to succeed Ann Kirkpatrick in what is now Arizona Congressional District Two. Supported by many endorsements, she's running on popular issues such as ensuring Arizona's water supply, protecting reproductive freedom, and supporting voting rights.
Now that Dr. Randy Friese has dropped out of the race, Kirsten Engel and Daniel Hernandez are contesting each other for the Democratic Party nomination of that pivotal House seat in the 2022 elections.
 Engel has also been acquiring several endorsements from former colleagues inside and outside the State Legislature including:
State Senator Rosanna Gabaldón (Legislative District 2)
State Senator Lisa Otondo (Legislative District 4)
State Senator Jamescita Peshlakai (Legislative District 7)
State Representative Kelli Butler (Legislative District 28)
State Representative Andrés Cano (Legislative District 3)
State Representative Mitzi Epstein (Legislative District 18)
Sharon Bronson, Pima County Supervisor
Stephanie Stahl Hamilton, State Representative (LD10)
Domingo DeGrazia, State Representative (LD10)
Natalie Luna Rose, Tucson Unified School District (TUSD) Governing Board Member
Jonathan Rothschild, Former Tucson Mayor
Betty Villegas, Former Pima County Supervisor
David Bradley, Former Arizona Senate Minority Leader (LD10)
Kristel Foster, Former TUSD Governing Board Member
JoAnna Mendoza, USMC Gunnery Sergeant (Retired)
Engel, who had just been elected to the Arizona State Senate from Legislative District 10 after serving two terms in the House, submitted her resignation from the Legislature on September 8, 2021, stating: "I have decided to step down from the State Senate to fully commit my time, energy, and focus to my campaign to continue to serve the people of Southern Arizona in the US Congress."
She discussed the course of her campaign for Congress and the major issues she would like to focus on: combatting climate change and workplace development.
The questions and her responses are below.
1) Please describe the current status of the race for Congressional District Two for your campaign now that Dr. Friese has decided to not run.
"We are moving forward full steam ahead. The field has narrowed, and this is an opportunity for our campaign to consolidate support and ensure that we keep this Congressional seat blue in 2022."
2) Is there anything you would like to add to your statement of resignation from the state legislature?
"It has been my honor and privilege to serve the people of Legislative District 10 for the past five years. During my time in the State Legislature, I am proud to have fought for fully funding public education, solving our urgent climate and water crisis, reforming our criminal justice system, and helping small businesses navigate the challenges presented by COVID-19. I look forward to continuing that fight in Congress and advocating for the issues that matter to everyday Southern Arizonans."
"Arizona's Second Congressional District is an open seat that will be key to maintaining our Democratic House majority in 2022, and this is not an endeavor to be taken lightly. I know how much work it will take to win this district, and I'm ready to take on that challenge wholeheartedly. That is why, after much consideration, I decided to step down from the State Senate to fully commit my time, energy, and focus to my campaign in order to continue serving the people of Southern Arizona in the US Congress."
"It is also very important that we give the precinct committee people in Legislative District 10 and the Pima County Board of Supervisors the time to evaluate potential candidates to serve out the remainder of my term."
3) Do you consider yourself the front runner now? Please explain.
"Yes, I do, and I intend to show that with the support I've earned throughout the district. I'm running on the issues that matter to everyday Southern Arizonans, issues like workforce development, securing a safe and reliable water supply, and addressing climate change by building our clean energy economy. My legislative district is entirely encompassed by Congressional District Two and makes up a large percentage of the voting population. These are voters who know me and trust me. The majority of voters in this district are women and my profile is in the mold of strong Democratic women leaders like Gabby Giffords and Ann Kirkpatrick who have held this competitive district in the past."
4) With regard to climate science, please explain at least two reasons for the need to protect bees.
"One out of three bites of food we eat comes from a crop that has been pollinated by a bee. One of the causes of the decline of bee populations is climate change. This is one of the reasons we need to address climate change, protect our agricultural system, and ensure we have enough food to eat.
Bees are essential to maintaining healthy ecosystems and biodiversity because they pollinate the majority of our planet's plants."
5) With regard to climate science and alternative energy resources, please advise what are at least two clean energy sources you would recommend Arizona businesses and residents utilize as soon as possible. Please explain.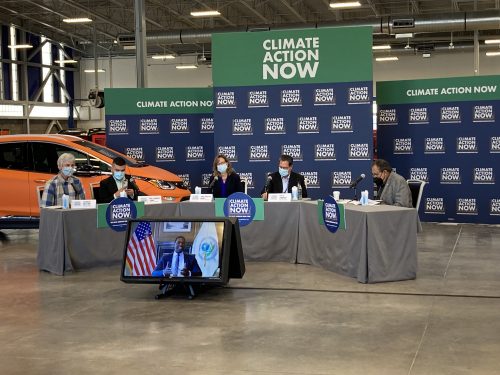 "First and foremost, we need to expand solar energy in our state. Solar currently provides six percent of Arizona's electricity generation, but given Arizona's year-round sunshine, it could provide much more. It's entirely unacceptable that states like New Jersey and Massachusetts, which aren't in the sunbelt, are ahead of Arizona in solar energy development. We need to invest in solar panel installation, both in residential houses and commercial buildings. I'm excited to see that the Biden-Harris Administration is pushing for a larger percentage of our electricity coming from solar."
"Hydroelectric power is another option, such as at Hoover Dam and Glen Canyon Dam, but its continued viability depends on maintaining water levels in Lake Mead and Lake Powell. There are multiple options in Arizona for pumped storage facilities, which use off-peak power to pump water back behind dams and can make water available again to generate electricity during times of peak demand. It's estimated that this could generate 37,000 megawatts of potential energy capacity if we invest in the infrastructure."
"Overall, one of the most important things we can do is improve energy conservation and energy efficiency, which is the cheapest way of generating clean energy."
6) With regard to wildfires, what are at least two strategies you would recommend to reduce the amount of them per year? Please explain. 
"Prescribed burnings are the single most efficacious approach to forest management and reducing wildfires. Forests rely on a cycle of fire to burn off the debris and deadwood. Artificially bringing in fire, under safe and controlled conditions, removes the buildup of woody mass that leads to large flareups and major wildfires. This can be an expensive process, but it is very effective for improving the health of forests and reducing wildfires."
"Burying electrical power infrastructure and putting those high energy transmission wires underground prevents sparks or downed lines during storms that have been the source of some of our largest wildfires."
"We also need to be smarter about how much development we are doing in remote, forested areas. The interface between people and wildland called the Wildland Urban Interface (WUI,) is a transitional zone between human settlement and forests. This can create the risk for fires started by human activity (BBQs or campfires, sparks from cars, etc.) and increases the risk for damage to life and property when a wildfire does occur."
"To reduce the number and severity of wildfires each year, we need to improve the overall health of forests. Healthy forests depend on adequate funding for our Forest Service so they can carry out their forestry duties effectively."
7) With regard to water availability and drought, what are at least two actions you would recommend Arizona policymakers take to counter the increasing water shortage? Please explain. 
"We have to get serious about water conservation. We need to develop enhanced water storage techniques and capacity. We've had huge monsoons this year. We need to be able to capture that water and store it. We have some larger storage facilities in Southern Arizona, but we also need more localized water storage. Investing in water infrastructure and water recycling will also help make sure we're not wasting any water.
Smarter agricultural practices that use less water will also help with this. We can invest in modern technologies like drip irrigation that reduce the amount of water lost to evaporation. We can also explore markets for lower water-use crops and help farmers in that transition.
We also made major strides by amending Arizona's "use it or lose it" water rights laws. Now, farmers, ranchers, and other water users can leave water in rivers and streams without fear of losing their water rights in the future, encouraging them to voluntarily conserve water. We need to continue making modifications like this that will encourage water conservation and produce measurable gains.
I'm very excited to see the climate and clean energy provisions in the infrastructure package and budget reconciliation plans. We need those investments for water in our state. Funding digital broadband could also help us conserve water. Just like we use our thermostats to regulate the temperature in buildings, we can use technology to monitor when crops need water and when they don't.
8) With regard to water supply, do you have any comment on the ideas of either desalination from the Pacific Ocean or developing a water pipeline from parts of the country that have a surplus in the water supply? Please advise.
"Desalinization is certainly an option that we can and should pursue as part of our approach to addressing our water crisis. However, this remains a very expensive technology to use and we need to bring the cost down before it can be implemented on a larger scale. Building a pipeline to transport water across the country, from places that experience extreme flooding, would not be one of my top priorities. This would require a huge monetary investment to build and maintain the infrastructure for the pipeline, as well as incredible amounts of energy to pump the water to Arizona. This would also require multiple inter-state negotiations for water rights and pipeline construction/maintenance."
9) With regard to high temperatures, especially in urban areas, what are at least two sustainability strategies city planners can institute that would help reduce temperatures? Please explain. 
"We need to address the heat island effect. This includes planting trees and making sure we have green spaces.
We can also counter the heat island effect by encouraging denser development that reduces the amount of sprawl and concrete, preserving more greenspace.
Investments in public transportation, electric vehicle charging stations, and infrastructure that encourages bicycling and walking will help to reduce greenhouse gas emissions from personal vehicles that enhance climate change and raises temperatures."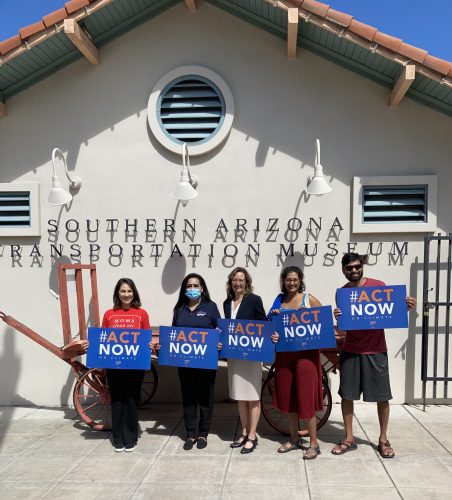 10) Please explain your ideas for enhancing Workplace Development for Arizonans and all Americans:
"Investments in community colleges need to be at the forefront. Our community colleges and trade schools are key to workforce development. We need more opportunities for people to access paid apprenticeship programs where they can get paid and support their families while learning a new career. We also need social supports, like childcare, so that these job training programs are affordable and accessible."
11) Is there anything not covered in the first nine questions that you would like the readers to know? Please explain.
"Arizona is at a critical point, especially with respect to our future in this desert habitat and the danger to our water supply. There's no future in Arizona without a safe and reliable water supply. Right now, that water supply is under grave threat, partly due to climate change. Combatting climate change is not only vital to our future, but it can also be an economic opportunity that creates good, high-paying, union jobs in the clean energy sector."
"With regard to water, it's not just an issue of having enough water, it's also about safeguarding the quality of our water. We're seeing significant contamination issues in Tucson and throughout the region, which need to be addressed. I'm very glad to see the federal funding included in the infrastructure package for cleaning up the water supplies contaminated with PFAS and PFOS."      
"Another issue that is front and center for me is that of reproductive freedom and abortion rights. We've seen the horror that is Texas's abortion ban, which criminalizes abortions after six weeks, even in the case of rape and incest. The law effectively turns anti-choice activists into vigilantes — not only giving them the ability to report and sue anyone involved in an abortion but offering a $10,000 reward for doing so. No one should have their most personal medical decisions controlled by politicians, neighbors, complete strangers, or anyone else. I stand in support of reproductive freedom across the country. All people should be able to make their own decisions about their health and their bodies — including abortion. Arizona is already ground zero for some of the most extreme anti-abortion legislation in our country. We cannot let this become the blueprint. Abortion is healthcare and every person should have the right to make healthcare decisions about their own body. We need federal legislation to protect these rights and I will be a strong advocate in Congress."
"We're also seeing a concerted attack on voting rights at the state level. These attacks disproportionately suppress the vote of communities of color and other under-represented groups. We need federal level action to protect our voting rights and I am a strong supporter of the For the People Act and the John Lewis Voting Rights Advancement Act."
 Please click on the social media sites below for more information on Kirsten Engel and her campaign for the House of Representatives.