Fighting Poverty.
Expanding Affordable Housing.
Fostering Economic Development.
Improving Transportation Infrastructure & Mobility.
Lowering Tucson's crime rate.
These are the issues Juan Padrés will work on if elected to represent Ward 3 on the Tucson City Council.
Experienced in working in both the private and public sector, Mr. Padrés said:
"I am running for City Council because Ward Three needs a leader with vision, experience, integrity, compassion, and integrity.  I bring the proper tools and skillset to the table.  Together we can significantly improve the quality of life for all Tucsonans." 
Juan Padrés graciously took some time to discuss his candidacy for the Tucson City Council.
The questions and his responses are below.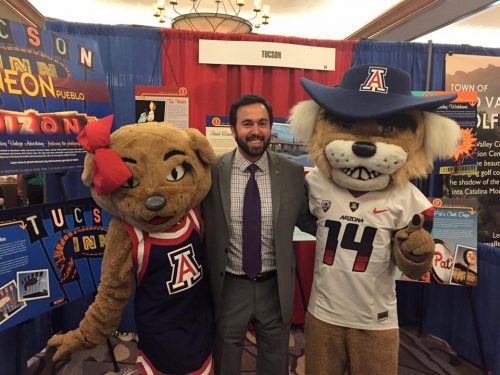 1) Please tell the readers two reasons you would like to serve on the Tucson City Council.
"I love Tucson. I have grown up coming and living here. The city is very special, and my family and I love the city and its culture. I want my daughters to grow up in Tucson. We have

a brain drain

in Tucson, so I want people like my daughters to stay and have prosperous and thriving careers here."

"I think Tucson has a poverty issue that has not been directly addressed. It seems to be getting worse especially in the wake of the pandemic.  I think I can bring focus to some of the toughest issues that keep holding us back as a community"
 2) Please tell the readers two qualifications you have for serving on the Tucson City Council.
"I have one of the most diverse backgrounds of any candidate or elected official in Southern Arizona. I have worked in both the private and public sectors and as a small business owner. I have worked at an artificial intelligence start-up that recently went public and is now trading on Nasdaq. I have been involved in multiple not-for-profit boards and commissions and am currently President of Tucson Sister Cities Inc, a cultural, economic, and social exchange organization with other sister cities.
My experience working at the City of Tucson as an Economic Development Specialist in the City Manager's Office. I know the city, the council members, and the bureaucracy. I would be able to hit the ground running on day one since I am very familiar with the issues and the day-to-day operations."
3) What are at least three issues you would like to work on if elected to the Tucson City Council?
Reducing Poverty.
Expanding Affordable Housing.
Fostering Economic Development.
Enhancing sustainable and clean energy public transportation and road systems.
Lowering the crime rate.
4) Is there anything not covered in the first three questions that you would like the readers to know? Please explain.
"Not only do I have a diverse professional background, but my personal background is also just as diverse. My wife and I both come from Mexico. Growing up in a different country and then coming to the United States allows you to see things from a different perspective. I would bring a diverse and distinct point of view to the council on the range of social justice issues the community is facing. There is no barrier to communicating with anyone in the city for me. Being a minority and an immigrant that is bilingual and bicultural gives me a different approach and enables me to relate to the people in a very effective way. If I am elected, The Tucson City Council will be the first minority-majority council in city history."
For more information on Juan Padrés and his candidacy to serve on Ward Three of the Tucson City Council, please click on the below social media links.
Website:  https://votepadres.com/
Twitter: https://twitter.com/jppadres?fbclid=IwAR3dt6rc7ohgy6wK50ZaNZ5MvPIsTDKO7HimN7jSN1iG4LOsOS5f_s-BziM
Instagram: https://www.instagram.com/vote_padres/