Donald Trump has been perpetuating a tale, like Old Mother Hubbard "the cupboard was bare" when he became president, and despite having three years to restock the cupboard (which was not bare, as we learn), "it's all Obama's fault" that he was so unprepared to deal with the coronavirus pandemic. Because "I don't take responsibility at all," says Trump.
The editors of the St. Louis Post-Dispatch had heard enough of this and did a fact check editorial. If the pandemic-preparedness cupboard was bare, it was Trump's doing:
Woe is Donald Trump. The long-suffering, misunderstood president just can't make the world understand what a raw deal he got. The pandemic was China's fault. Or was it the World Health Organization's fault? One thing we know for sure, the lax U.S. response was President Barack Obama's fault.
"We inherited a broken, terrible system …," Trump told reporters on April 18. "Our cupboards were bare. We had very little in our stockpile." That was Trump's attempt, frequently repeated by the president and recycled in White House presentations, to lay responsibility for the inept pandemic response at Obama's feet, as if three years in office were insufficient for Trump to repair all the supposed damage his predecessor wrought.
Except it's a lie of colossal Trumpian proportions.
We've taken the time to dissect Centers for Disease Control and Prevention budgets from the year before Obama left office all the way to the present. Trump can lie, but the numbers cannot. Obama left office with an unblemished record of building up the nation's pandemic preparedness. Trump systematically sought to dismantle it.
Perhaps because of his experience with the 2015 Ebola outbreak, Obama sought to leave his successor fully prepared to confront future pandemics. He asked in his fiscal 2017 budget request to boost federal isolation and quarantine funding by $15 million, to $46.6 million. Congress approved $31.6 million. In Trump's three years in office, he has not requested a dime more in funding.
Obama asked to nearly double his own $40 million outlay for epidemiology and laboratory capacity. Congress balked, but Obama left Trump with that $40 million as a starting point. What did Trump do? In his 2020 budget, he asked Congress to cut that number to: Zero. Zilch. Nothing.
Obama's goal was $629.5 million in funding for pandemic preparedness, though Congress only gave him $612 million. If Trump was so worried about a bare cupboard, why did he ask Congress to cut the 2020 pandemic preparedness budget by $102.9 million? In the 2019 fiscal year budget, he sought a $595.5 million cut in the overall public health preparedness and response outlay.
The CDC budget in Obama's final year mentions "epidemiology" or derivatives of the word 252 times. Under Trump, the word appears 129 times. The phrase "pandemic preparedness" appears exactly once in Trump's 2020 budget.
Interestingly, Trump's own 2020 budget contains a chart comparing the nation's public health emergency preparedness before the Sept. 11, 2001, attacks and where it stood in 2016 (why it stops with Obama's final year is unclear). Before 9/11, the nation had a 20% ability to mobilize in response to a health emergency, a 5% ability to establish an incident-command system, and 0% storage and distribution capacity for critical medicines and supplies. By Obama's final year, the nation's preparedness on all measurements was 98% to 100%. That's by the Trump administration's own assessment.
If the cupboard was bare, it's because Trump swept it clean.
You just got owned.
Here's the next fact check that the media really needs to do. Trump says he's no longer taking hydroxychloroquine: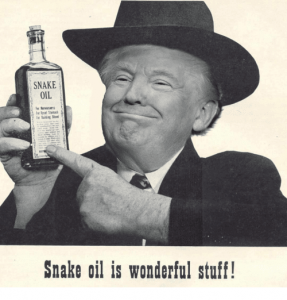 President Donald Trump said he had "just finished" taking a two-week course of the antimalarial drug hydroxychloroquine, the medication he has vigorously promoted as a preventative or curative treatment for the coronavirus, even as evidence piles up that the drug may cause more harm than good.
"Finished, just finished," he said in an interview that aired on the right-wing Sinclair Broadcasting on Sunday. "And by the way, I'm still here."
The president told reporters last week that he was taking the unproven treatment after consulting with the White House physician. He also claimed without evidence that thousands of essential workers, including doctors and nurses, were taking the drug to prevent contracting the disease caused by the coronavirus.
Did he really take the drug for two weeks? Because he has provided no medical proof that he actually was taking the drug under medical supervision. No one should ever take this pathological liar's word for it. Prove it!
The president again defended his decision to take, and talk about, the unproven treatment in the interview, amid Food and Drug Administration warnings against using the drug for COVID-19 outside of hospital settings because of a risk of serious heart problems.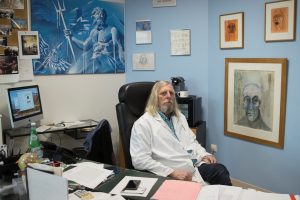 "Well, I've heard tremendous reports about it. Frankly, I've heard tremendous reports. Many people think it saved their lives. Doctors come out with reports. You had a study in France (see The Trumpian French Doctor Behind the Chloroquine Hype Didier Raoult), you had a study in Italy (not exactly: Italian pharmacology scholar Annalisa Chiusolo's theory was published in the Italian dailies Il Tempo and Il Giornale), that were incredible studies," Trump said, failing to acknowledge the [legitimate] studies that tied the drug to a greater risk of death or those that found no benefit at all.
"I believe in it enough that I took a program because I had two people in the White House that tested positive," he said. "I figured maybe it's a good thing to take a program."
In that case, why not your bleach and Lysol miracle cure? You thought that was a good idea. Go ahead, give it a try, let's see if you are right.
There have been several studies into the effect of hydroxychloroquine on patients sick with COVID-19 that have found the drug to be ineffective or harmful to patients fighting the coronavirus.
A study out of China found that patients with mild to moderate COVID-19 who were given hydroxychloroquine and standard care for COVID-19 fared worse than those given standard care, while French researchers in another study found that treatment with hydroxychloroquine didn't stop the progression of the disease. A study in New York that was funded by the National Institutes of Health found no adverse or beneficial effects of the administration of hydroxychloroquine on coronavirus patients. Another study in Brazil was stopped early after patients developed fatal, irregular heartbeats.
The World Health Organization announced on Monday that it was suspending a trial of hydroxychloroquine in treating COVID-19 patients over published concerns that the drug may do more harm than good:
The move comes after the medical journal The Lancet reported on Friday that patients getting hydroxychloroquine were dying at higher rates than other coronavirus patients.
The WHO has 3,500 patients from 17 countries enrolled in what it calls the Solidarity Trial. This is an effort overseen by the WHO to find new treatments for COVID-19. The patients in the trial have been randomly assigned to be treated with hydroxychloroquine, which is a common malaria drug, or three other experimental drugs for treating COVID-19 in various combinations. Only the hydroxychloroquine part of the trial is being put on hold.
The WHO's chief scientist, Dr. Soumya Swaminathan, says the review was prompted by the article in The Lancet, which was not a randomized control trial but still large.
"While it was still a reporting of observational data," Swaminathan says, distinguishing it from the gold-standard randomized controlled trial, "it came from multiple registries and quite a large number of patients, 96,000 patients." She says the WHO hasn't yet seen data that showed a problem with hydroxychloroquine in its own study, but The Lancet article raised questions among many of the investigators involved in the WHO's trial.
"The steering committee met over the weekend, in the light of this uncertainty," Swaminathan says. "We decided we should be proactive, err on the side of caution and suspend enrollment temporarily into the hydroxychloroquine arm [of the Solidarity trial]."
The review panel will also check on seven other studies globally, including the Recovery Trial in the United Kingdom, that are using hydroxychloroquine for COVID-19 patients to see if they are seeing similar problems.
Swaminathan says they expect to decide whether to resume testing hydroxychloroquine in the Solidarity Trial in a week or two.
Fact checkers really need to discover the real reason Trump recklessly keeps promoting a drug known to be potentially dangerous and deadly to COVID-19 patients based upon the theories of a couple of fringe medical providers in France and Italy, and heavily promoted by propagandists on Fox News aka Trump TV.
One theory that is increasingly gaining prominence is that this con man came to believe his own con. Trump got conned by himself. That's the time an old con man should realize that the time has come to quit the business.