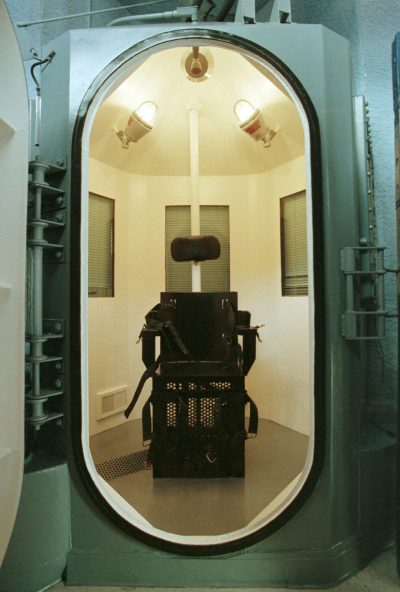 Moratoriums on the death penalty have been the rule in Arizona for the last seven years, resulting from the torturous death of Joseph Wood in 2014. Wood took almost two hours to die when Arizona Corrections Department officials injected him with 15 doses of a lethal cocktail.
One of the drugs used to kill Wood was midazolam, a sedative also used in Oklahoma's botched execution of Clayton Lockett two months earlier.
Adding to the death penalty's suspension in Arizona and elsewhere, Pfizer acquired the drug company Hospira in September 2016 and halted sales of seven of its products to executioners
The preferred method of execution is pentobarbital sodium salt. The alternative in Arizona is its newly renovated gas chamber using the Nazis' Zyklon B gas.
Brnovich Racing to Restart the Killings
After the seven-year hiatus, Brnovich reinstated the death penalty in March.
In April, the Republican Attorney General, who is running for U.S. Senate,  announced he had notified the Arizona Supreme Court that the state will seek warrants of execution for two death row inmates, Frank Atwood and Clarence Dixon.
The Arizona Supreme Court granted Brnovich's motion on May 21.
Significant State Funds Spent for Illicit Drugs
Arizona spent a jaw-dropping $1.5 million to obtain pentobarbital sodium salt–Arizona's preferred means of execution–even as the Department of Corrections faces a budget crisis.
Documents obtained by the Guardian disclose that Arizona's Department of Corrections also bought a brick of potassium cyanide for $1,530, an ingredient used to manufacture Zyklon B.
Arizona also bought sodium hydroxide pellets, and sulfuric acid used to generate the deadly gas.
Prashant Yadav, a lecturer at Harvard Medical School, said that prices were often marked up by 1,000 percent or more over the rate charged in traditional pharmaceutical markets.
According to Pilkington, that's because "Republican-controlled states are spending taxpayer's money to buy drugs from illicit dealers in a desperate and almost certainly unlawful attempt to carry out lethal injection executions."
The American Pharmacists Association, representing about 60,000 pharmacists and other medical groups, tell members that facilitating executions is unethical.
Zyklon B death gas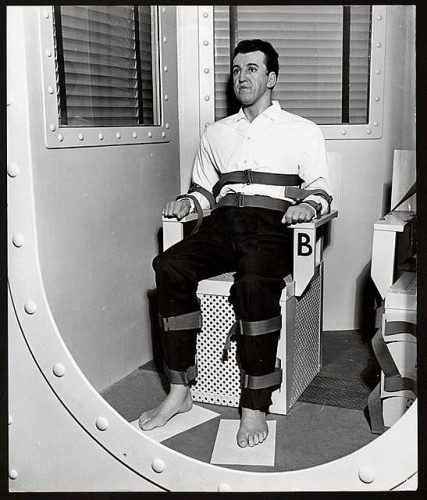 Brnovich's alternate execution method, its gas chamber, was built in 1949 at the Florence prison complex. According to the Corrections Department, the gas chamber, abandoned for 22 years, has been "refurbished."
Despite Brnovich's attempt to promote gas as a humane method of execution, Arizona's plan to use the Holocaust gas, hydrogen cyanide (Zyklon B), in executions has generated international outrage.
Hauser wrote that the Nazis used Zyklon B to murder more than 1 million people in gas chambers in Auschwitz and other extermination camps.
The Arizona Department of Corrections, Rehabilitation and Reentry published a memo dated December 17, that described an assessment conducted in August to determine whether a gas chamber in Florence was functional.
"The document showed that a smoke grenade was detonated inside the chamber to make sure that it was airtight and that the fan and exhaust functions were also tested," Christine Hauser of the New York Times reported. The testing was primitive:
"A candle was held up to sealed areas, like doors and windows, at the facility. No deflection of the flame was observed, the report said.

"Overall, there were no 'functionality issues' detected, and the 'vessel is operationally ready,' the document said.

"The Department of Corrections declined to comment, and it was not immediately clear where the agency bought the chemicals.

"Arizona's state Constitution says that inmates can choose either lethal injection or lethal gas if they committed their offense before November 23, 1992," Hauser concluded.
In Germany, Walter LaGrand was the last prisoner sentenced to death in Arizona's gas chamber for a 1982 bank robbery in which a man was killed.
Pilkington wrote that The Tucson Citizen published an eyewitness account of his 1999 execution in which he displayed "agonizing choking and gagging" and took 18 minutes to die.
"The witness room fell silent as a mist of gas rose, much like steam in a shower, and Walter LaGrand became enveloped in a cloud of cyanide vapor," the Citizen reported.

"He began coughing violently – three or four loud hacks – and made a gagging sound before falling forward."
Frank Atwood and Clarence Dixon
Death row inmate Frank Atwood, 65, was sentenced to death for killing an eight-year-old girl, Vicki Lynne Hoskinson, in 1984. Frank Atwood was sentenced to death for the 1984 murder of a girl despite inconsistencies in the evidence against him.
Clarence Dixon, 65, was convicted of the 1978 murder of a college student, Deana Bowdoin. He had a long history of mental illness including schizophrenia.
A member of Atwood's legal team, Joseph Perkovich of Phillips Black, told the Guardian that "it was improper for the state to be hurrying towards setting an execution date when the pandemic had impeded an investigation into his client's possible innocence for more than a year."
"Inmates who choose the gas chamber are strapped into a chair in the center of the vessel, Pilkington wrote.

"Coloured levers are then used to drop the sodium cyanide into a pot of sulfuric acid under the chair, releasing the deadly hydrogen cyanide into the air.

"Once the prisoner is dead, the gas is neutralized with ammonia until the chamber is safe to enter.

"As a precautionary method, the death chamber protocol says, 'it is recommended that the team removing the body wear gas masks and rubber gloves and that the hair of the deceased inmate be ruffled in order to allow any residually trapped gas to escape."
A German drug company, I.G. Farben, produced Zyklon B for the Nazis from 1942 to 1945. It was first used as a pesticide. The Department of Corrections declined to comment on where it bought the chemicals.
Arizona's state Constitution states that inmates can choose either lethal injection or lethal gas if they committed their offense before November 23, 1992.
Before Brnovich Leaves Office
"Capital punishment is the law in Arizona and the appropriate response to those who commit the most shocking and vile murders," said Brnovich when filing his court motion.
"This is about the administration of justice and ensuring the last word still belongs to the innocent victims who can no longer speak for themselves."
Brnovich says 21 death row inmates have run out of appeals.
"I think for a lot of victims, it provides an opportunity for closure. I mean, there are folks like Debbie Carlson in Tucson and Pima County. "I've personally sat with her many times and talked about how her poor daughter Vicki Lynn died."
"And when you talk to people like Debbie Carlson, they will tell you that the only way they're going to get closure in their life is for justice to happen, and justice means executing the killer that assaulted her daughter and killed her," Brnovich said.
Vicki Lynn Hoskinson was eight years old when Atwood knocked into her bike with his car, kidnapped and killed her 37 years ago. Frank Atwood already had a conviction for molesting children when 34 years ago, a jury found him guilty of Vicki Lynn's murder.
"I can ensure you that 21 of those individuals have exhausted their appeals and will end up getting the death penalty before I leave office" [in January 2023], Brnovich said.