The most consequential legislation that the national Democratic leadership must pass this year is the two voting rights and election policy bills: HR.1/S.1 and HR.4. These two measures will stop state legislation in Arizona and 41 other states from blocking access to the ballot box and restrict how elections are run.
Georgia's Republican legislative and executive leadership has already enacted a menu of election-limiting outrages designed to limit citizens' voting rights. They affect minority voters in the Atlanta area and communities of color throughout Georgia. I will remind you, dear readers, that the governor of Georgia was the Secretary of State in 2018 and rigged his own election in his race against then State Senator Stacy Abrams.
Arizona is not far behind Georgia. A similar menu of election-rigging measures goes so far as to authorize our state legislature to appoint a slate of electors in presidential elections in the event—perish the thought—Republicans are not content with the choices voters made.
Corporate America objects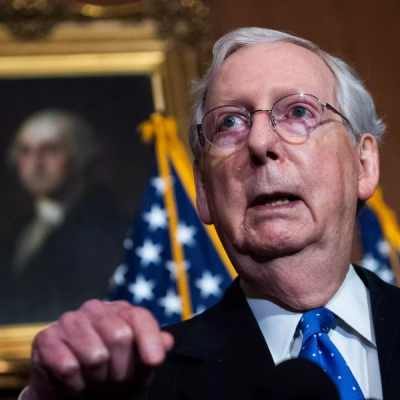 Belatedly, Democrats in Georgia started to mobilize Georgia-based businesses against the egregious damage those election restrictions would cause. The opposition has been belatedly expressed by Coca-Cola and Delta Airlines (corporate "residents" of the state) and major league baseball. GOP Governor Kemp has thumbed his nose at these corporations.
Similar legislation in Arizona and 41 other states will bring similar corporate antipathy. How will Arizona Republican leaders react to pressure from Delta and American Airlines, Marriott, and other hospitality industry giants? How will Republicans respond if the corporate sponsors of several golf tournaments and major league baseball spring training decamp from our fair state in reaction to overt election-fixing?
In the meantime, Mitch McConnell has weighed in on this developing controversy. Mitch dearly desires to see the Democrats lose their razor-thin majority in forthcoming elections in Georgia, Arizona, and a few other states in 2022. Rigging elections in favor of Republican candidates would offer him his best chance for regaining his majority power.
Warnings by "Moscow Mitch" to corporate CEOs to "stay out of politics" when their companies take a stand against state legislation that inhibits citizens' access to the ballot box are intriguing and remarkably hypocritical. The man has sucked up big-time to corporate donors and made sure they would receive lots of goodies from the federal government in return. The legislation in Georgia, Arizona, and the 41 other states suspiciously inhibits the ability of voters who are likely to vote for Democratic candidates and ideas.
Business must take a stand
"Stay out of politics," really? McConnell leads a senate minority whose party and its satellite PACs have thrived on corporate America's generous financial backing. Big Business makes direct contributions and donations to Republican causes and candidates. However, businesses are fully within their rights and supportive of their own interests when they take a stand against government action in our democratic republic to erect barriers that deny or impede the right to vote.
Indeed, these same corporate citizens should speak out against our Republican-led legislature's efforts to do in Arizona precisely what the Georgia Legislature did to damage voting rights. Democratic Party leaders should be making that ask now!
Senator McConnell is a crafty politician, and he realizes that the Republican party is seriously disadvantaged when an expanding and diverse electorate can participate easily and fairly in elections. His motives are crystal clear and devious.
We Arizonans definitely have a dog in the fight. Senator Mark Kelly must stand for re-election to his seat next year, and Senator Kyrsten Sinema is up in 2024. We Democrats don't need to be fighting with one hand tied behind our backs. Senator Sinema especially needs to be reminded who took her to the dance in 2018. Furthermore, we don't know the contours of the U. S. House of Representatives districts and may not know them until well into 2022.
Rank and file Democrats need to get in touch with our State House and Senate members—especially if they are Republicans—and let them know they want them to do the right thing as these bills come up for votes. As well, keep your US House Representative and our US Senators informed that you expect them to do the right thing and get HR1/S1 and HR 4 passed into law.