[fusion_youtube id="2_d2D7GcBMU" alignment="center" width="650″ height="" autoplay="false" api_params="" hide_on_mobile="small-visibility,medium-visibility,large-visibility" class="" css_id=""][/fusion_youtube]
Kevin Dahl, an environmental activist who spent his career protecting National Parks, said that Ward 3 voters asked him to run for City Council to focus on climate change in Tucson. "We need to protect those most at risk," he said. "Parts of Ward 3 are seriously affected." Ward 3 is bounded by River Road to the north, Swan Road at the East, Grant Road to the South, and Silverbell Road to the West.
He spoke at the February 15, 2021 meeting of Democrats of Greater Tucson. "Climate change is a horrible threat to our Saguaros and the cactuses in Organ Pipe National Park," he said.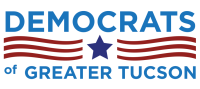 Tucson is facing more extremely hot days per year, when high temperatures hit 100 to 105 in Tucson, as well as less Monsoon rainfall, researchers have found. Tucson already has an average of 62 days annually with temperatures higher than 100 degrees. From May through August, more than 50 daily, monthly and seasonal Tucson temperature records were broken or tied.
---
Take the City of Tucson survey about climate and environmental sustainability actions.
---
He staked out several pro-environmental positions:
Opposition to building a new Interstate 11 Freeway through Avra Valley.
Opposition to continued roadbuilding at Trump's damaging border wall.
Supporting glass recycling, to turn it into sand that can be used to build streets.
Negotiating with phone companies to lessen the impact of new 5G towers going up everywhere. See Facts and fiction about 5G.
Getting more community policing in Tucson so that excessive police violence can be stopped, while at the same time, fighting crime.
Opposing a bill by domestic terrorist Mark Finchem (R-LD11) to limit personal donations of land to the national parks. "Anything Finchem says is problematic," Dahl said.
Saving historic Barnum Hill and the duck pond in Reid Park from being destroyed by an expansion of a tiger display. See Save the Heart of Reid Park.
Supporting the citywide installation of charging stations for electric vehicles. A local policy toolkit for electric transportation.
Protecting National Parks
Dahl works as Arizona's Senior Program Manager for the National Parks Conservation Association in the Southwest region. He focuses on issues concerning Arizona's national parks, including the Grand Canyon, Petrified Forest, and Saguaro National Park. He has actively fought efforts to build a giant resort and to continue uranium mining at the Grand Canyon. He helped expand Petrified Forst by 1,000 acres. At Saguaro National Park Dahl helped clear buffelgrass which "makes the desert burn where there never were fires before."
He has supported Congressman Raul Grijalva in plans to introduce the Grand Canyon Protection Act of 2021.
Previously Dahl served as:
Executive Director of Native Seeds/SEARCH for 11 years. His greatest accomplishment was to create a permanent seed bank of native crops.
Executive Director of the Tucson Audubon Society.
Natural Resources Superintendent for Pima County's Parks and Recreation Department.
Dahl asked residents of Ward 3 to sign his nomination petition. Voters in other parts of the city can make $10 donations so he gets the $200 minimum required to be a clean elections candidate. More information will be online at facebook.com/kevin.dahl1.